Hey folks, week 16 is here so lets dive straight in…

1. Designed by Mike Kus, Amazee Labs is the perfect mix of layout, texture, type and imagery:




2. The Barrel and Barc 24 Hour Project is a colourful and easy to use site. It's a cool ideas as well, getting their staff and volunteer's together to get a site up and running in 24 hours:




3. Next is Racket, an Australian based design studio. Their site has a great blend of vintage, grungy style with modern looking blog style layout:




4. At no4 is the personal site for Shawn Johnston, a web professional based in Vancouver. I love grunge sites and this one is all about grunge. it doesn't distract from the content and uses imagery in a good but subtle way:




5. Last up this week is One Dollar Wedding. If you can see past the unintentional tacky title, the site has been set up to help a couple get married in Greece. It's a nice concept and a sweet site: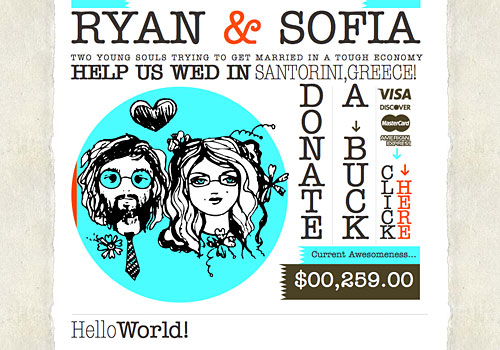 Another week done. Please keep your suggestions going, really helps. If you have any other suggestions about the format etc then send those too!
Tweet